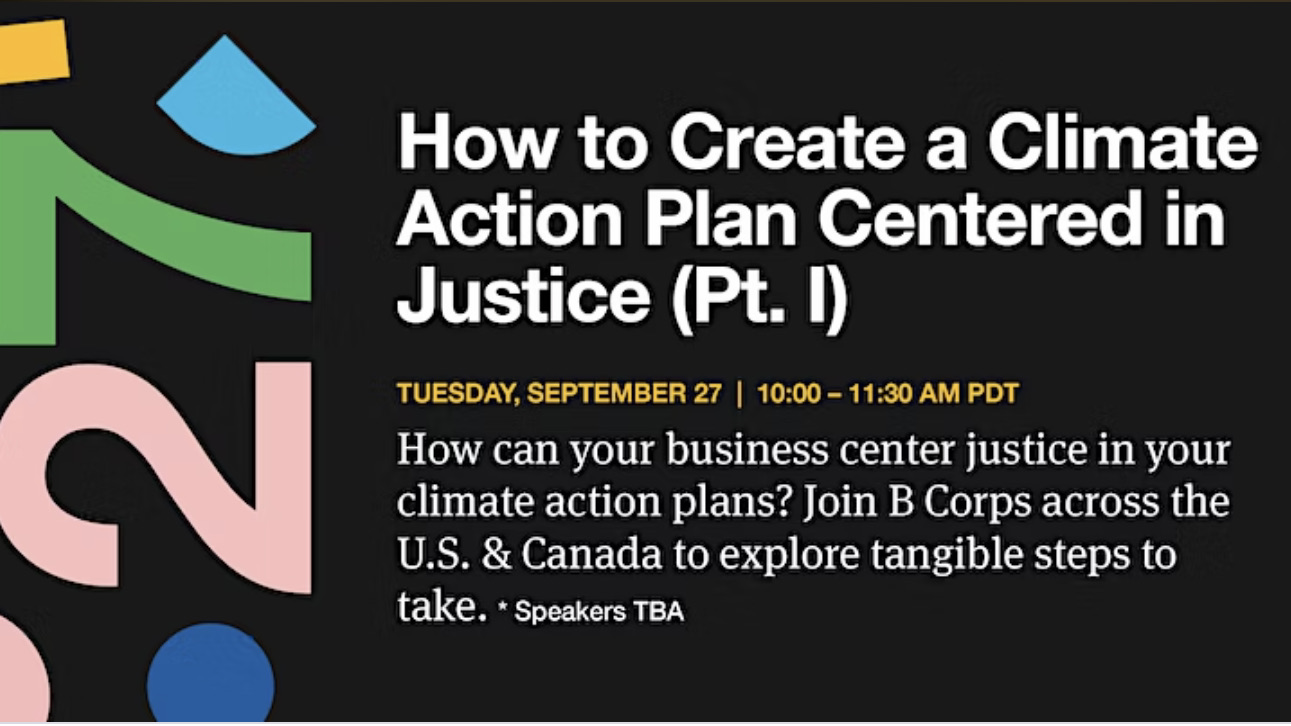 Creating a Climate Action Plan Centered in Justice
Tuesday, September 27, 2022 10:00 AM – 11:30 AM PDT
At the core of climate justice is the recognition that those who are least responsible for climate change are more likely to suffer its most devastating effects, now and in the future. Globally and in the U.S. & Canada, these populations are disproportionately People of Color and systematically oppressed communities. It's essential that our climate action and net zero transition plans center climate justice by placing the needs and voices of those who are most impacted by climate change at the forefront. This call will explore ways businesses can center justice in their climate action and net zero transition plans including considerations within scopes 1, 2 and 3 of greenhouse gas emissions. Most of this virtual event will include presentations from B Corp businesses and frontline community leaders. You'll also connect with your peers for shared learning, reflection on our collective work towards climate justice to date, and opportunities for the work ahead.
Topics will include:
An overview of net zero and how you can center justice in reducing your scopes 1, 2 and 3 greenhouse gas emissions.
How frontline communities are affected disproportionately by climate change.
How businesses can start to identify, reflect and act on the harms to frontline and impacted communities they might be causing.
How businesses can adopt a climate justice framework to guide their climate action.
Stories/examples of B Corp partnerships and work to date to advance climate justice.
Who should attend?
This interactive, informational session is designed for business and organizational leaders who want to learn more about climate justice and how to embed it into their work. It is particularly relevant to those in the B Corp business community looking to drive climate solutions and collective action that center people and justice.
Community Resilience and Adaptation
,
Just Transition