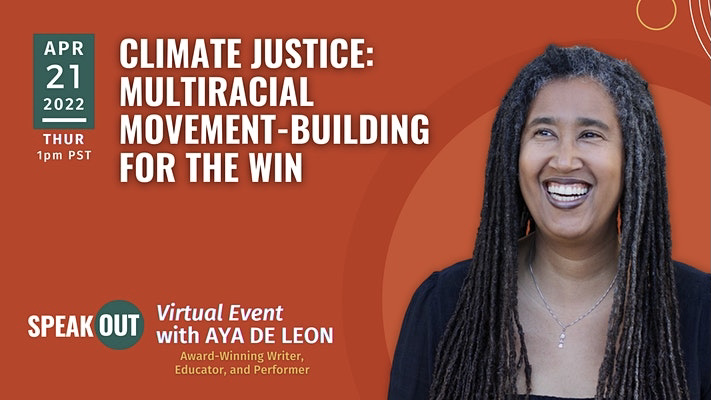 Climate Justice: Multiracial Movement-Building for the Win
Thursday, April 21, 2022 1:00 PM – 2:00 PM PDT
Climate is a Black issue, an Indigenous issue, and an issue for all people of color. Our communities are often hit first and worst in the climate crisis, but we are sidelined in public conversations about climate. In fact, the climate crisis has been allowed to escalate precisely because communities of color worldwide have borne the brunt of the impacts so far.
Scientists are clear that our planet is likely to become unfit for human habitation if we don't act to decarbonize our economies. They are also clear that we CAN avert a climate disaster if we ACT now. This reality presents an unprecedented opportunity to develop powerful, multi-racial coalitions to deal with all of the intersecting oppressions that underlie the climate crisis. Like all movements, the climate justice movement needs stories, visions of the future we want, and strategies of how we plan to get there. Join us as we envision and strategize a climate justice movement in which our communities come together and WIN.
Join us for this special virtual event with SpeakOut speaker, Aya de Leon!