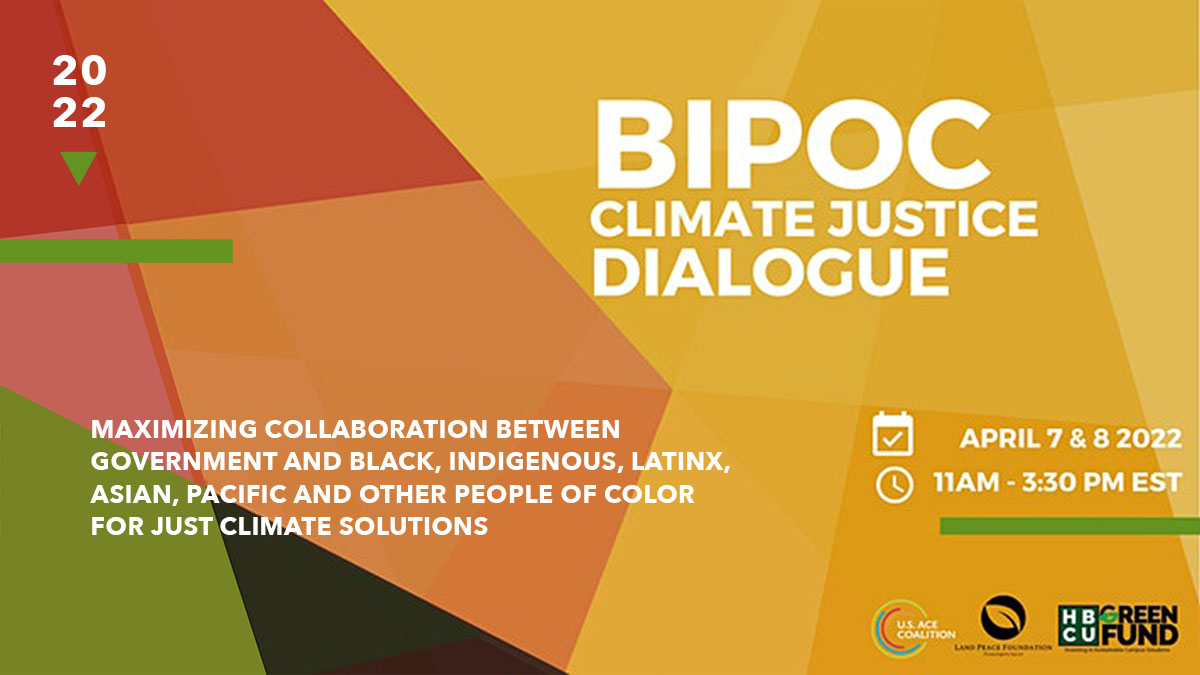 BIPOC Climate Justice Dialogue
Join climate justice leaders and federal agency representatives for a discussion of the Biden Administration's climate justice initiatives.
We are facing a critical moment in history. A year after the signing of Executive Order 14008: Tackling the Climate Crisis at Home and Abroad, which promises to deliver 40% of climate investment benefits to disadvantaged communities, it's time to review the Biden administration's key efforts and accomplishments in light of this commitment.
The HBCU Green Fund, BIPOC Climate Scholars, US ACE Coalition, and Land Peace Foundation will host the second annual BIPOC Climate Justice Dialogue, building upon recommendations from the 2021 dialogue. This two-day virtual event will focus on progress in Justice40 implementation.
On April 7 & 8, you are invited to join in a discussion about Justice40 implementation and where we must go from here. The event will feature government representatives in conversation with BIPOC climate justice leaders. This event will explore lessons learned and opportunities to maximize the benefits of Justice40. Recommendations gathered will be reported to the federal government.
Who should attend?
Advocates, scholars, experts, government officials and community members working to advance just climate policy are invited to participate. Space is limited.
This special gathering is collaboratively hosted by the managers of the BIPOC Scholars Project, the HBCU Green Fund, the US ACE Coalition, Land Peace Foundation.